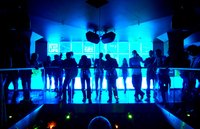 Baltimore is a known to be a diverse city that offers a number of attractions and entertainment options. Every June thousands of people from all over the country flock to Baltimore for its annual Starscape festival at Fort Armistead Park. More than 20 bands make their way to the city to play on one or more of the venue's six stages. If you are in the Baltimore area and are under age 21, you can visit a number of nightclubs that allow patrons ages 18 and over.
One
One is a popular nightclub in Baltimore that is hosts a party for the 18 and over crowd every Saturday night between 10 p.m. and 2 a.m. The vibe at the club is hip and trendy. The spacious main room of the club is designed to be dark and moody and the room is lit mainly by stage lighting. Nationally and locally famed DJs spin tracks on a modern sound system specially designed for the club. The club hosts a number of themed parties and special events on a rotating schedule.
One 300 E. Saratoga Street Baltimore, MD 21231 410-230-0049 onebaltimore.com
Bourbon Street Live
Bourbon Street Live is a massive club in the heart of Baltimore that features popular lives bands. The focus here is on popular rock music and the club has been known to feature acts such as Chevelle and Three Day Grace. Ages 18 and over are welcome at the club nightly but you must be over age 21 to consume alcohol. Bourbon Street Live is a multi-level club that offers two performance spaces and a rooftop deck that overlooks the city.
316 Guilford Ave Baltimore, MD 21202 410-528-8377 bourbonstreetbaltimore.com
Ice Hookah Lounge
Ice Hookah Lounge is about 7 miles from the heart of downtown Baltimore and is known for its unique hookah offerings. A hookah is a multi-stemmed smoking pipe that is used primarily in Arab countries but is becoming popular in the Unites States. Ice Hookah Lounge offers hookah tobacco in a number of flavors infused with fruit juices. This club allows patrons ages 18 and older. On the weekends, the club has a DJ who spins hip-hop and dance music. A large dance floor and a number of seating areas are available.
Ice Hookah Lounge 508 York Road Towson, MD 21208 888-946-6524 icehookahlounge.com
Sonar
Sonar is a music and performance space situated in the center of Baltimore. The club is made up of three areas, with one able to accommodate 1,000 people. This main room often hosts popular touring musicians. Sonar also hosts independent film showings, art presentations and conferences. Most of the events at Sonar allow access for those 18 and over, but an occasional event will require patrons to be over age 21. The bar at Sonar offers a full menu of cocktails, juices and soda.
Sonar 407 E Saratoga St Baltimore, MD 21202 410-783-7888 sonarbaltimore.com