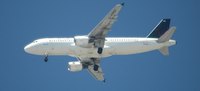 Hawaiian Airlines has a series of guidelines for carry-on luggage that correspond to plane specifications as well as the rules administered by the Transportation Security Administration (TSA). The TSA is a national security organization whose guidelines affect all airlines nationwide. Passengers must abide by all carry-on luggage rules in order to board their flights safely and promptly.
Baggage Composition
All passengers are limited to one carry-on bag as well as one personal item. Personal items may include purses, handbags or other small storage units. Items such as car seats, infant carry-on seats and strollers may be taken aboard as carry-on luggage in place of a carry-on bag. For an additional fee, passengers may carry these items aboard as well as an additional bag, provided that all baggage fits under the passenger's seat or in the overhead compartment. Passengers also have the option to check these items in cargo at no additional charge, if traveling with an infant. Items such as a cane, camera, reading materials and head accessories may be brought aboard in addition to the personal items and carry-on bag at no extra charge.
Size and Weight Limitations
If a carry-on bag does not fit in an overhead compartment or under the seat, it must be checked in cargo. Specific per-passenger limitations on size and weight are 45 linear inches (9x14x22) and 25 pounds, respectively. In situations of limited overhead space or when capacity is full, Hawaiian Airlines reserves the right to check your carry-on bag into cargo. Additional size and weight restrictions may apply to special types of aircraft.
Prohibited Items
For the safety of all passengers, Hawaiian Airlines abides by the TSA's regulations regarding prohibited items for carry-on luggage. These items include weapons, flammable items, sharp objects such as box cutters or needles as well as sporting goods. In order to avoid any problems while boarding, be sure to check the official TSA website for a full list of prohibited items. Items such as lithium batteries, for example, are prohibited in carry-on luggage.
Additional Rules
As an added security measure, the TSA has administered restrictions on carry-on liquids. The 3-1-1 Rule declares that passengers must divide liquids into 3.4 ounce (100 milliliter) bottles. Each passenger may place as many of these bottles as desired into a clear, 1-quart ziplock bag, and is limited to one bag per person. A passenger may travel with additional containers of larger size, so long as he checks them with his cargo luggage. Exceptions to the rule include infant formulas or other medications, all of which must be declared and inspected before boarding.