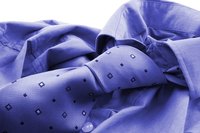 Sale representatives have to make a good first impression and continued good impressions on bosses and colleagues. One way to do this is to consider your fashion choices. By following a few tips, you can increase your sales and open up your opportunities for advancement.
Wardrobe
Sales representatives are very much judged on first appearances. Looking professional can be the difference between making the final sale and being turned down. In a formal environment, a man should wear a suit or, less formally, a nice pair of slacks, dress shirt and polished shoes. Women should wear either a suit, dress, or a skirt and blouse. The skirt should hit just below the knee. Blue is a good color choice for men and women, as it gives a sense of authority and trustworthiness. Clothing should be pressed and without wrinkles and should fit properly without being too suggestive.

Grooming
Sales representatives should always be fastidious in their grooming. Men should be clean shaven or have a trimmed beard. Keeping healthy looking hair shows that you care about your appearance and gives potential customers a sense of your demeanor. Clothes should be clean and pressed, free from hair and lint. Shirts should be tucked in, and shoes should be polished and clean. Refrain from strong smelling cologne, perfume or aftershave.

Accessories
Sales representatives should keep jewelry to a minimum. Jewelry pieces may include a wristwatch and wedding ring for a man, and a wristwatch, wedding ring and small earrings for a woman. Too much jewelry can look tacky and distract customers from the sale. Any facial piercings should be removed before coming to work.