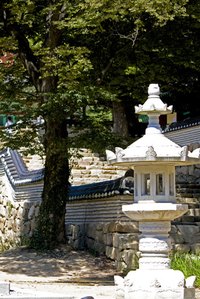 A traveler going to the Republic of Korea (ROK) can bring one liter of liquor, 200 cigarettes, 50 cigars, 250 grams of tobacco products, two ounces of perfume and other goods worth up to $400 without paying duties or taxes. Anything in excess of these must be declared, along with any cash or financial instruments, including those in other currencies, with a total of $10,000 or more.
Item Declaration
Any personal goods you bring to Korea can be brought out of the country without having to pay duties and taxes on them, except for those purchased duty and tax-free in Korea, in excess of your duty free concession.
If you have expensive personal items bought in Korea before and you're bringing them with you on another trip to the country, declare them upon departure in order for you to be exempted from paying duty on them. Declare your other expensive personal items like golf clubs, laptops and cameras even if not originally from Korea. You can bring them without paying duties and taxes as long as you also plan to take them out of the country when you leave. Once declared, a note shall be placed in your passport. If these goods are not with you when leaving Korea, you must pay the duty.
Supporting documents proving ownership of jewelry and other goods not readily identifiable are helpful when you travel. Bringing official receipts helps you avoid traveling delays in customs when you present the goods on return. Once registered, you don't have to declare these articles again on your return to Korea, but bring your registration form in case a customs officer has any questions.
Restricted Items
Korea protects its economy and security by restricting items that are imported and exported from and to the country. This also allows the preservation of local plants and animals. Among the popular items that are listed as restricted items are quarantine-required goods such as food and animal and plant materials, guns, firearms, knives and explosives, health and drug products and traditional medicines containing endangered species. You can view the complete list and other significant details at english.customs.go.kr.
Prohibited Items
Prohibited items that are not allowed for import and export in Korea include those that may disturb constitutional orders, those that can be harmful to public security or traditional custom, those revealing confidential information about the government or those used for intelligence activities. A short-list of the items that may fall under any of these descriptions include books, publications, drawings, paintings, films and other audio-visual works and phonographic materials. Counterfeited, forged or imitated coins, currency, bank notes, debenture and other negotiable instruments are also prohibited. You may check the complete list at the Korean customs website.