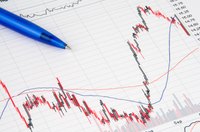 The Sarbanes-Oxley Act (SOX) was signed into law in July 2002. The legislation's purpose was to bring stability and trust back to financial markets after a series of high-profile business failures. SOX was intended to make the directors and auditors of corporations more accountable. It also required more thorough and timely disclosure of operations. Many companies, especially smaller ones, struggled to implement SOX into their reporting processes.
Pro: Shareholder Information
SOX requires that companies disclose more information about their risk profiles, their assets and debts and their commitments. This information allows shareholders to make more informed assessments of these companies prior to investing in them. The increased disclosure ensures that public companies can be compared more transparently. This increase in shareholder confidence led to an increase in capital flowing into the markets.
Con: Cost
One of the harshest criticisms of SOX legislation is that the rules were the same for the largest multi-national corporations as for the smallest public companies. The costs involved in disclosure, testing and revamping internal controls and reporting to both shareholders and the SEC caused an uneven burden on smaller companies. SOX has been modified since its inception to lessen the reporting requirements on smaller companies; however, the cost of compliance is still high.
Pro: Internal Controls
Section 404 of SOX requires that management test internal controls quarterly and issue a report stating that the internal controls of the company are both sufficient and effective. While this component is the most expensive to comply with, the focus on internal controls helps to eliminate some of the management overrides that occurred during high-profile failures like Enron. Internal control testing ensures that transactions occur the way they are supposed to, and ensures that checks and balances are in place to catch aberrations.
Con: Increased Audit Fees
One of the consequences of implementing SOX is that auditors are now more responsible and accountable for their audit reports on their clients. This means that more audit testing is done, which has increased audit fees substantially since 2002. The increased liability of auditors also increases the audit fee.