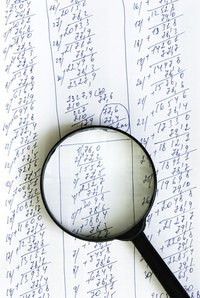 Revenue audit procedures allow an auditor to ensure that controls, policies and guidelines in a business entity's income-producing processes are adequate and effective. An auditor tests controls to detect significant weaknesses, and checks financial statements to ensure that such statements are in accordance with regulatory standards and generally accepted accounting principles.
Understand Revenue Processes
An auditor gains knowledge about a business entity's revenue process by inquiring from the entity's management and segment heads. A revenue process describes controls, guidelines and procedures a corporate uses to earn income from its activities. Such a process includes check receipts, sales discounts, noncollectable items and accounts receivable--amounts owed by customer. Noncollectable items are also referred to as doubtful accounts, and are amounts a firm expects to lose due to customers' temporary monetary difficulties or defaults. An auditor also could understand an organization's revenue process by evaluating the organization's management style, ethical qualities and business practices, its departmental guidelines and its segment standards.
Understand Controls
An auditor gains an understanding of a business entity's controls around revenue processes by sending questionnaires to the entity's operational managers and its treasury, accounts receivable and received inventories departments. An audit specialist applies generally accepted auditing standards to collect sufficient and competent "evidential matter", and detect "material" weaknesses in internal controls, guidelines and policies. "Evidential matter" refers to evidence or proof upon which an auditor bases an opinion. Such evidence is competent when it is relevant to control tests, and is sufficient when it satisfies an audit plan's test criteria. "Material" means substantial or significant in audit parlance.
Test Controls
An auditor tests a corporation's controls, policies and guidelines around revenue processes to ensure that such controls are adequate and effective. Controls are mechanisms established by a business entity's management to prevent error or fraud in operations. Effective controls rectify deficiencies or internal weaknesses properly. Control are adequate if they provide detailed and written step-by-step policies for job performance, lines of hierarchy and decision-making tools. For example, an adequate control in Company ABC's revenue process could be a separation of duties between the accounting department employee making collection calls and the treasury department staffer receiving customer checks.
Perform Substantive Tests
An auditor performs substantive tests if internal controls are not operating properly or are inadequate. Substantive tests are tests of details of accounts or examinations of account balances. An auditor performs such tests to ensure that a corporation's financial statements are complete and "fair". Complete financial statements include a balance sheet, a statement of profit and loss, a statement of cash flows and a statement of shareholders' equity. "Fair" means correct in accounting and audit parlance. An auditor also could conduct substantive tests to detect significant errors in reports.