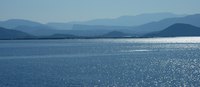 If you are planning a trip to the island of Crete or any part of Greece it is important to understand the customs regulations before boarding the plane. Some items, such as animal products, are not allowed to cross into Greece. Other items are allowed, but limited.
Prohibited
Weapons and drugs of any kind (meaning prescription and illegal) are not allowed into Greece. If you need a prescription drugs you must have the drugs clearly labeled with your name and doctor in the original container. It is a good idea to also travel with a matching prescription to avoid any problems. It is illegal to bring in any prescribed medications that do not belong to you. Animal products including both live and dead animals are not allowed (pets excluded). Dairy products are also not allowed into Greece from outside countries. Hay, straw, plants and bulbs are also forbidden. Aside from bringing items into the country, antiquities from Greek historical locations are also not allowed out of the country. This means plants and rocks from such places as the Coliseum cannot exit Greece.
Limits
No more than 300 Euros worth of goods can be claimed at Greek customs. This includes gifts that were purchased or souvenirs you are bringing for yourself. Tobacco is allowed at customs, but cannot exceed 200 cigarettes, 50 cigars, 250 grams of loose tobacco and 100 cigarillos. Alcohol is also allowed as long as it is under one liter of spirits, 16 liters of beer, four liters or still wine and two liters of sparkling or fortified wine.
Pets
Dogs and cats are allowed into Greece if they are healthy and up-to-date on shots. In order to bring your pet into the country a USDA-certified veterinary clinic must fill out a release form confirming the pet's health. It is also advised to purchase a pet passport to avoid any further problems. Be sure to look into the specific city's dog or cat laws (e.g., if the pet must stay on a leash at all times). This will vary from city to city.