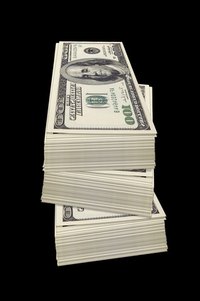 Learning how to handle financial challenges will determine whether or not an entrepreneur is going to achieve success in a business. Among the most common of these issues are issues of collaboration and financing, providing for unexpected expenses, and legal and tax liabilities.
Collaborative Issues
One of the most common financial issues for businesses is how expenses and profits should be split when in collaboration with another company. When an opportunity comes along for partnership on a project of mutual benefit, it's critical to work out the specific details of expenses and profit sharing beforehand. It's probably not a good idea to go into a collaboration on a shoestring budget, because if anything goes wrong you can find yourself strapped for any additional cash that may be required to finish the project.
Financing Issues
Financing is arguably the most common and most important issue that faces most businesses. For a start-up business, if bootstrapping it isn't an option, then finding a favorable bank loan is preferable to racking up credit-card debt. Investment capital can also be arranged through "angel" investors who are often willing to take a chance with a new business venture.
Unexpected Expenses
While some expenses can be predicted, a number of factors can result in unexpected liabilities: overtime wages caused by employee illnesses or resignations; vehicular accidents; lawsuits; or natural disasters. Having additional funds set aside for such contingencies is crucial.
Legal Liabilities
Legal liabilities can be a major financial issue for businesses, as legal representation is always expensive, and companies have legal responsibilities to take care of their employees and provide a safe work environment. Lawsuits can arise over issues of product safety, employee injuries, environmental damage, or discrimination in employment. Certain types of businesses are also going to be more legally liable than others, which partly explains why some companies choose to form as a Limited Liability Corporation (LLC), which limits an individual's personal responsibility in case of lawsuits against the business.
Tax Issues
Depending on how employees are compensated, companies may be responsible for collecting payroll taxes and remitting them to the IRS or state agencies. Businesses also have to deal with property taxes, licensing fees, and taxes on corporate profits. Tax regulations differ, depending on whether the business is a sole proprietorship, a limited liability corporation, or a partnership).