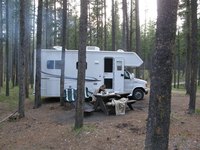 The last necessity a novice camper would anticipate is window treatments, and if you buy or rent new equipment, the windows of a truck bed camper, pop up camper, camper trailer or van will probably already be covered with shades or curtains. The problem of providing window coverings occurs for those whose equipment is used or for those who build their own campers and understand they must shield their privacy as well as block outside light.
Contact a Manufacturer
For campers whose window covers are inadequate, spoiled or worn out, it may be possible to contact the manufacturer of the equipment to inquire about custom-made window treatments. Because most such campers are originally sold with curtains or shades, it is possible that the manufacturer will sell an appropriate set of custom-made window covers to a new buyer. Replacement curtains not likely to be found for sale in stores because of the nonstandard size of windows in a camper.
Copy Old Curtains
For a camper whose original shades or curtains are still available, it is possible to create copies of the original by using the original as a pattern. Purchase a material that will block light, such as a dark, tightly woven cotton or a special product designed to block light. Trace the shape of the old curtains on the material, add allowances for seams and hems, and make the copies. Use the original hardware to attach the new curtains.
Create New Window Treatments
If the camper's window treatments are gone or if the camper is a homemade product, it will be necessary to create new window treatments and provide a new way to hang them. Measure the window and door openings to determine the size of new curtains and plan for using either tubular curtain rods, Velcro, or magnets to hang them. Because finding the curtain rods may be problematical, consider the other options. While hook-and-loop tape may be installed with its own adhesive, magnets will be more dependable but must be sewn or glued in place.