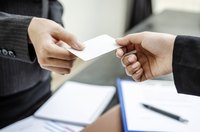 A business card is more than information, it is a reflection of your brand. In many cases it is the all-important first impression and the most important piece of marketing collateral a business may have. Yet, many people spend far too little time creating this pocket-sized billboard, often neglecting the basics of good design and messaging. As a highly visual marketing piece, the business card's fonts play an important role in the impression it makes.
Fonts Convey a Message
Font choice says a lot about the person and the brand. Some sans-serif fonts may convey a greater element of elegance and creativity, while traditional serif fonts like Times New Roman are best used when trying to convey reliability and authority. Overly-cute fonts like Comic Sans or Curlz convey a sense of fun and whimsy, but there are very few occasions where these would be appropriate for a professional card. Unfamiliar fonts, or those that might be difficult to read such as Old English, will also have a negative impact.
Other Typographic Elements
Besides font choice, designing a business card requires the consideration of font style, such as color, kerning, leading and font size. Adequate white space is important to avoid a cluttered look, and that clean presentation can be enhanced by varying the typographic elements. Kerning, or spreading out each letter, can create an elegant presentation, and ensuring proper leading (space between lines) preserves readability. Also, use caution in line justification to guard against irregular kerning that may occur.
Wrapping Fonts on a Path
Some design concepts include wrapping text around an image. Use this concept cautiously, with attention to character descenders that may overlap the image. Because this design is meant to bring attention to both the text and the image, a simpler font works best in most cases so as not to detract from the image around which it is being wrapped. A more complex serif font may have readability issues if it is wrapped.
Match Fonts to Your Business
Font selection is part of a company's branding, and once selected, customers will come to associate your brand not just with your company name, but with the way that name looks on paper. Building a powerful brand calls for creativity and standing out in a crowded marketplace, and the simple business card may be the most memorable part of the branding strategy. Take time to explore beyond the default settings to find the font that matches your business perfectly. The much-maligned Comic Sans may be just the thing for you, if your business is making balloon animals. Wedding planners may go for a simple script, while bankers or financial planners will do well with a tried-and-true Palatino or Baskerville. It all comes down to image and making your brand memorable.