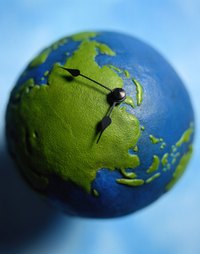 The endangered species list is a collection of animals that are few in number and may eventually become extinct. Latin America has its fair share of endangered animals. Knowing the endangered species of Latin America will help spread knowledge of these animals and help to save the populations before it is too late.
Scarlet Macaw
Found in both Mexico and southern Brazil, the scarlet macaw is one of the most popular parrots in the world and often sought as a pet. Because of this popularity, according to ThinkQuest, it has become endangered. These birds have the ability to accurately mimic human speech. They have bright red crests and tail feathers with both yellow and blue on their wings. These birds are often poached even though they are on the endangered species list.
Jaguar
Because of the destruction of the jaguar's natural habitat, the population of the big cat has drastically decreased, causing it to be added to the endangered species list, according to Gale-Cengage Learning. The habitat of its prey, such as deer, snakes and sloths, is also being destroyed, decreasing the availability of food. Jaguars, the largest cat native to North on their body.
Mantled Howler Monkey
Also on the endangered list because its habitat is being destroyed by humans, the mantled howler monkey has faced trouble form natural disasters, according to Earth's Endangered Creatures. These monkeys are small, about 12 pounds. They get their name because of the tufts of hair on the sides of their face and their howling form of communication.
Harpy Eagle
The harpy eagle is a large, white and dark gray eagle with a crest of feathers upon its head. These eagles are thought to be the biggest and most powerful eagle in existence, according to Earth's Endangered Creatures. These eagles hunt their prey in the trees, looking for monkeys and sloths, as well as the occasional reptile and bird. Because of logging and the destruction of rainforests, the harpy eagle has found itself on the endangered species list. These birds are also hunted, making their surviving numbers fewer.