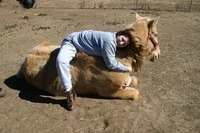 Significant weight loss in a senior horse usually indicates a serious health problem,. An older horse faces the same situations as senior humans. Older horses lose muscle tone as they age. The horse might become swayback. She will slow down and appear fragile. He may lose his sight or develop cataracts. Old injuries may turn up with an unexpected lameness or arthritis. Losing weight may be related to these problems or something else. Whatever the reason behind the weight loss, simple changes combined with a visit from the vet will fatten the horse up and make it more comfortable.
Teeth
A horse should have his teeth filed by an equine dentist at least once a year, preferably every six months. Pointy teeth cause pain and make it hard to chew, leading to problems digesting grain. Whole grain pieces become visible in the horse's manure as a result and signals the horse's need to see the equine dentist. The equine dentist will file down--called floating--the horse's teeth with a rasp. He or she has a degree in equine dentistry. Set up an appointment with your local dentist if the horse seems uncomfortable or in pain when eating. Eating slowly or without relish may also indicate a problem with the horse's teeth.
Worms
Young or old, horses get worms. Usually, a preventative de-wormer given every six to eight weeks takes care of the problem. Large infestations can cause damage to major arteries and organs. A visit from the vet may be in order, if the worms are noticeable on the coat (usually parasitic fly larvae called bots) or present in the horse's manure. Because of the life cycle of worms, horses eating grass have a higher chance of getting an infestation.
Feed
As age wears down a horse's teeth, grain and hay become hard for the horse to eat. Feed stores carry bags of grain formulated for senior horses. Senior horse feed contains nutrients geared toward older horses. Ask your feed store what brands they carry. Making this change will not adversely affect your horse. Slowly introduce the new feed by decreasing his present feed by a 1/4 scoop and adding an equal amount of senior feed over two weeks. A 1,000-pound underweight horse performing light work should receive 6.3 pounds of feed a day. To make it easy to dole out feed, count how many scoops you get per bag and divide the weight by the number of scoops. The resulting number is how much a scoop of grain weighs.
Senior horses can have problems digesting hay. If you suspect this may be your horse's problem, call your veterinarian to confirm the problem and follow her recommendations for substitutes such as hay cubes.
Pain or Illness
Pain can cause a horse to lose weight and even to stop eating completely. The pain can originate from old injuries and arthritis. It can also be a new injury or illness that causes the pain. Call a veterinarian to check for any physical cause, and follow the directions given by the veterinarian to alleviate the pain. She may recommend supplements or pain relievers.