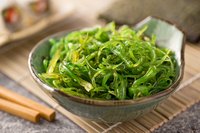 Seaweed can be a valuable food resource, with more than 10,000 different edible varieties, each with a slightly different nutrition profile. It provides fiber, vitamins and minerals. Although research is still in the preliminary stages, some types of seaweed may also help limit your risk of cancer or help with weight loss.
Calories and Macronutrients
A one-eighth-cup serving of raw seafood typically contains 3 to 5 calories, about 1 gram of carbohydrates and just trace amounts of fat and protein. The seaweed laver is an exception, as it has almost equal amounts of fat and protein, with about 0.5 gram of each, and spirulina is another, as it has more than twice as much protein as carbohydrates.
Vitamin Content
For a food to be a good source of a vitamin or a mineral, it must provide at least 10 percent of the daily value. Because of the small serving size for seaweed, it doesn't count as a good source for many nutrients. Laver is one of the better seaweed sources of vitamins, with each one-eighth-cup serving providing 10 percent of the daily value for vitamin A and 7 percent of the DV for vitamin C. Wakame seaweed and Irish moss have about 5 percent of the DV of folate per serving, and kelp has 5 percent of the DV for folate and 8 percent of the DV for vitamin K per serving.
Vitamin A is essential for proper vision, and vitamin C is necessary for healing wounds. Folate is important for forming DNA, and you need vitamin K for clotting blood.
Mineral Content
Seaweed is naturally high in iodine, but the iodine content varies greatly based on where the seaweed was grown, the type of seaweed and its preparation. Just one gram of dried seaweed can have anywhere from 11 percent to 1,989 percent of the daily value for iodine. The upper end of this range is more than twice the tolerable upper intake level for iodine, so it isn't wise to eat too much seaweed in a day.
Fresh seaweed is higher in iodine than dried seaweed, but cooking for at least 10 minutes reduces the iodine content of seaweed. Kelp and kombu tend to be among the types of seaweed higher in iodine while nori and wakame are lower in iodine but still provide significant amounts.
Getting too much iodine can interfere with your thyroid function and cause goiter, nausea, vomiting, abdominal pain, diarrhea and, in severe cases, coma.
Potential Health Benefits
Brown seaweeds, such as kombu and wakame, contain a substance called fucoidan that may have some anticancer effects, helping to cause the death of cancer cells and inhibit their spread, according to a review article published in the International Journal of Biological Macromolecules in September 2013. However, research is still in the test tube and animal testing phases. Further research is necessary to show it has the same effects in people.
Some types of seaweed also contain a type of fiber called alginate which may help you control appetite because it forms a gel that slows the emptying of the stomach, according to a study published in Appetite in November 2008. Not all research results show the same effects, however, as a study published in Obesity in August 2010 found no effect of alginate on satiety or appetite. This could be due to the form of alginate used, as some types of alginate form a stronger gel than others.
Uses and Potential Considerations
You can use seaweed in salads, stir-fries, sushi and side dishes. Take care though, as prepared seaweed salads can be quite high in sodium. Large amounts of seaweed can also cause problems for people on thyroid medications, because of its iodine content, and blood thinners, because of its vitamin K content.
Get your seaweed from a reputable source, as it can sometimes be contaminated with heavy metals, such as arsenic, which could cause tingling, numbness, diarrhea, nausea or weakness in large amounts.