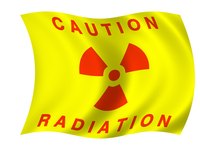 Radiation pollution is not addressed often, perhaps because it does not usually have an immediate reaction to link its effects with symptoms. Because of radiation health risks, many are wary of the safety of nuclear power plants and the long-term storage of their radioactive wastes. When ionized radiation is absorbed through the body's tissue, it has the ability to break down cells by removing electrons in the atoms, thus damaging or killing the cells.
Natural Causes
The largest impact of naturally caused radiation pollution occurs when a person breathes radon gas that is trapped within buildings. According to Princeton University, in the United States, radon is responsible for approximately 229 millirems per year per person, accounting for one-third of the average yearly total from all sources. This usually occurs in homes with basements that are not properly vented for radon. Certain geographic areas can be more prone to radon gas exposure because radon emanates from the ground due to the decay of uranium and thorium.
Other Sources
Granite found in home furnishings such as countertops and furniture tends to emit radon, which can add to the indoor accumulation. Other more mild forms of natural radioactive elements include radioactive materials in the Earth's crust, rays from the cosmos and trace amounts of radioactivity in the body.
Man-Made Causes
The main source of man-made radiation toxicity primarily comes from medical procedures such as computerized tomography scans and nuclear medicine procedures. According to Princeton University, these procedures, including X-rays, account for about 300 millirems per year per average person in the United States. As reported by the University of California, San Francisco, certain CT scans are the equivalent of more than 300 chest X-rays. Reports from the Archives of Internal Medicine estimate that CT scans could lead to 29,000 new cancers each year.
Effects on Humans
Effects can be as mild as skin irritation to death depending on how much radiation is exposed to the body, what parts of the body are exposed and how strong the immune system is. Other effects are blood component changes, nausea, vomiting, fatigue, diarrhea and cancer, as stated by Jefferson Lab. Exposure to the overall body is much more harmful than the same amount of radiation intensity on a small portion of the body. Some parts of the body are also more sensitive to radiation cell damage than others. The most sensitive are blood and blood-related organs, and the least sensitive is the nervous system.