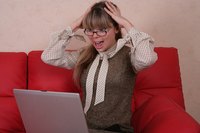 Getting people to open and read an email marketing campaign requires some catchy phrasing. However, ignoring specific rules that protect consumers from spam may result in the Federal Trade Commission (FTC) fining your business up to $16,000 in non-compliance fees. Any form of marketing deception can result in a spam report and FTC investigation should a recipient take the time to notify the FTC. Familiarize yourself with the commercial email requirements within the CAN-SPAM Act.
Accurate information
The 2003 CAN-SPAM Act demands legitimate header information. The names of who you are sending the email to, as well as who the email is from, must be accurate. A false entry in either of these areas can cause your marketing piece to redirect into a recipient's junk email box. Your originating domain name and email address must contain truthful information that reflects the email's actual origin.
Relevant subject line
Subject lines must contain direct and relevant information. Deceptive wording is a violation of CAN-SPAM rules. Reference the content of your email blast within the subject line.
Opt-out option
You must offer consumers an opportunity to opt-out of receiving your emails. CAN-SPAM law requires that the opt-out option is clearly visible. The FTC also requires that you honor any opt-out requests swiftly.
Physical address
Prevent violating the CAN-SPAM Act by including a physical address within your email. If your blast emails are sent without containing a physical address, suspicions will arise about the validity of your correspondence.
Advertisement notification
Email blasts can be as creative as you want them to be. However, the CAN-SPAM Act states that the information must be clearly identified as an advertisement. Although the act offers a lot of leeway on this issue, your advertising disclosure must be conspicuous, according to the FTC. Placing your advertising notification in a small type face where it can't be seen easily is unacceptable, according to the FTC. Crafting emails that look urgent when they are not can also result in fines from the FTC.
Monitor email blasts
You may outsource your email blasts to a company that will design and administer the mass mailings, but your company remains responsible for complying with the CAN-SPAM rules. The company who uses an email blast and the company designing or sending them out, will ultimately be held accountable for incidents of non-compliance.
Bad email blasts
The FTC makes reporting spam easy. The FTC maintains a database of violations of deceptive marketing campaigns. Any violations of CAN-SPAM law can weigh heavily against you in a court of law.