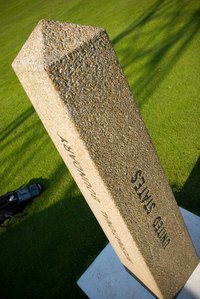 Crossing from the United States to Mexico or Mexico to the United States is simple for travelers carrying the required documents. Citizens of both countries must be prepared to present passports and travel documents at all border crossings. United States citizens can no longer traverse border with only a drivers license and birth certificate; passports are now required of all travelers. Be prepared for longer waits at highly traveled crossings during popular travel times.
U.S Citizens Crossing From Mexico to the United States
U.S. citizens, including children, need a current passport or other approved document such as a NEXUS card, U.S. military identification with travel orders or a U.S. Merchant Mariner Document when entering the United States by air or sea or at any land border.
Permanent U.S. Residents
Legal residents, including children, must present a current passport when entering the United States by air. Residents entering the U.S. at a land border crossing may present their Form I-551, permanent resident card (green card).
Foreign Citizens Entering the United States
International citizens, including children, must present a current passport or secure document to enter the United States. Mexican citizens must present a passport with a non-immigrant visa or a border crossing card, also known as a laser visa. Most holders of non-U.S. passports must also have their fingerprints scanned digitally.
U.S. Citizens Entering Mexico From the United States
United States citizens, including children, need current passport, birth certificate, voter registration card or any document that proves citizenship to enter Mexico from the United States. Mexico also requires travelers visiting beyond border cities or staying longer than 72 hours to carry a Mexican tourist card. The cards are free and available at Mexican immigration offices, Mexican consulates and Mexican government tourist offices in the United States.
Driving Into Mexico
Mexico requires drivers to carry an automobile permit to travel beyond border cities. The $10 permits are good for up to 180 days and can be obtained at the border with a tourist card stamped by Mexican immigration officials. Tourists must stop at a Mexican federal inspection point about 12 miles from the U.S. border to present the auto permit. Drivers must also carry Mexican auto insurance, available at many border-area travel agencies.