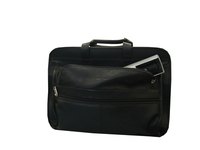 Firms are constantly changing their business model and organizational behavior to adapt to changing market forces. How business is conducted today is markedly different from prior decades due to technological advances and a change in the workforce population. Some of these sweeping business trends positively affect companies, while other trends generate mixed reactions.
Globalism
How companies integrate their business practices with other countries has radically changed. Instead of controlling all aspects of the supply chain, companies outsource certain manufacturing tasks to other countries. One company, for example, could engage the workforce of 25 other countries in production. Thomas Friedman highlights this recent phenomenon in his book, "The World is Flat". In his "Dell Theory", Mr. Friedman explains that countries will not go to war against each other as long as they are inextricably linked by their companies' supply chains.
Globalism has negative consequences on business as well. Small businesses are adversely affected since they seldom have the intellectual or financial capital to achieve economies of scale to produce lower-cost goods through outsourcing. While highly capitalized companies can pay the high up-front costs to venture overseas and secure trustworthy partners, smaller competitors cannot.
Telecommuting
More organizations are offering telecommuting to their employees, which in turn alter the company's business model. A 2010 Miami Herald article explains that 34 million Americans telecommute occasionally. It estimates that by 2016, about 46% of the workforce will telecommute at least some of the time. This shift in organizational behavior may chip away at a unified corporate culture as workers are disseminated. However, reduced rental and equipment costs compel many businesses to consider telecommuting.
Telecommuting requires companies to re-evaluate the way they judge employee performance and productivity. Instead of workers being evaluated by intangible measures like a cheerful attitude and demeanor, workers are judged on quantitative measures like output and sales figures. Similarly, employees must maintain high levels of productivity to retain the right to telecommute.
Independent Contractors
The notion of working for one company your whole life and retiring with a large pension has become increasingly outdated. Instead of workers tying their identity to a company, they are building their "brand of one" and pitching services to companies on a contractual basis. Industries prone to experiencing this shift include journalism, legal services and IT.
Though this shift may be uncomfortable for some as layoffs increase, the situation can be beneficial to both the employer and employee. Employers save money by eliminating healthcare and 401k benefits, and reducing rental and overhead costs. Steven Greenhouse, author of "The Big Squeeze: Tough Times for the American Worker", explains how this shift is beneficial as independent contractors have more flexible schedules and multiple sources of income. Additionally, most self-employed workers align themselves with their passion instead of performing a job just for a paycheck.