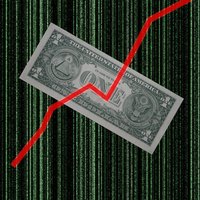 The Financial Industry Regulatory Authority (FINRA) establishes minimum margin requirements for those traders and investors purchasing securities on margin. Margin describes necessary collateral to offset risk to a broker-dealer or entity lending funds to the borrower. The investor first executes a margin account agreement and receives permission to borrow money. The investor then deposits cash or securities to purchase new securities, sell securities short, create options/derivatives contracts or withdraw cash without selling securities. While the FINRA establishes margin requirements, the FDIC provides regulations that affect these margins.
Regulation T
Regulation "T" states that when making a new stock purchase, 50 percent of the purchase price must be deposited into a margin account--if securities to collateralize the risk to the broker-dealer or exchange are not already in the account. It also states that maintaining the purchase requires only 25 percent equity. Individual broker-dealers may require a higher house maintenance level.
When equity falls because the stock price declines, the original margin loan to purchase securities remains the same. As equity declines, new funds or securities must be added to the account to satisfy margin requirements. Similarly, securities appreciation increases equity and enables new securities purchases or cash withdrawal.
Time to meet margin calls is established by the broker-dealer or exchange. Application for extensions may be possible unless the transacting entity deems the account holder's good faith is in question.
Margin to maintain certain leveraged exchange traded funds (ETF), changed in September 2009. Because of high volatility in these shares, FINRA announced higher margin maintenance levels. Calculated in accordance with the individual ETF's volatility, margin maintenance range from 50 to 90 percent of value.
Margin Accounts for Day Traders
When an investor transacts four or more day trades--buy/sell or sell short/buy within one day--over five days, FINRA instructs members to increase maintained margin equity to $25,000 or more at all times. Classified as a "pattern day trader," these short-term trades potentially expose the member to greater than usual account risk. Prior to the rule change in 2001, low equity levels may have encouraged some traders to take inappropriate risks in the pursuit of quick gains.
According to FINRA, pattern day trader status and margin requirements remain whether or not the account holder limits day trading practices over the next five days. Cash account holders trigger "free-riding" when buying and selling the same security in one day without paying for the initial purchase. Such transactions freeze the account until settlement of purchase occurs.
Stock Margin Accounts
Stocks eligible for margin usually include exchange-traded securities. Exceptions may apply when the float--or shares outstanding--creates a wide bid-asked spread or extremely low daily trading volumes. To purchase or trade these shares, or for shares of low capitalization companies, investors must use cash accounts. Companies listed on the "pink sheets" limit trading accuracy because knowledge of the market, or bid-asked spreads, can change quickly without notice. For this reason, non-exchange securities bear greater risk to broker and account holder.
When considering a purchase or short sale, always determine the margin eligibility of your transaction before authorizing an agent to execute.