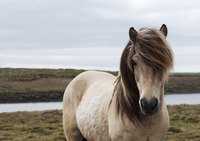 Diabetes isn't common among horses, although it can happen. This disorder means that your companion can't properly process glucose from carbohydrates. Either his body doesn't produce enough insulin required for glucose absorption, or the insulin he has doesn't work efficiently. If you know your equine pal has a family history of blood sugar problems, or if you're concerned about diabetes, pay close attention. His habits and body will change if he has diabetes.
Drinking and Urinating Frequently
When blood glucose levels get too high and insulin isn't around to help cells absorb the extra glucose, your horse's body works to bring down sugar levels. His kidneys go in to overdrive, pulling as much water as possible to dilute urine and help glucose get out of his body. Because your prancing pal likely will be urinating more and more, he'll feel thirsty because he is dehydrated. He'll spend more time than usual hanging out by the watering hole to replenish his fluids.
Developing Unusual Fat Deposits
If your equine family member has insulin in his system, but it isn't working correctly, you may notice a fatty crest form on his neck. He also might develop unusual fatty spots around the base of his tail, although these fat deposits can develop anywhere. These are signs of Type 2 diabetes. The fat deposits will appear dimpled, almost like cellulite on humans.
Lacking Energy
Glucose is your four-legged buddy's main source of energy. So if he doesn't have enough insulin in his body or he's insulin resistant, his cells aren't getting the fuel they need to run. This is why you could notice that your horse just isn't as active as he used to be, no matter how much he eats. Low energy levels are a general symptom of many other conditions though. Be sure to visit your veterinarian for the correct diagnosis.
Flaking Skin and External Inflammation
Diabetes can leave your horse open to skin abnormalities. You might notice dry, rough, flaky patches on his coat or even bald spots. If wounds are present, from conditions such as rain rot, they'll generally take an extended period of time to heal. Diabetic horses also are susceptible to developing laminitis. This condition causes severe inflammation and agonizing pain in your horse's hooves. He might be limping or having a hard time walking if he develops laminitis. Lastly, if insulin resistance caused inflammation to progress throughout your galloping friend's system, you may notice it by looking at his face. He may have bulges right above his eyes, an area that should be shallow. If you notice any of these symptoms, seek veterinary care promptly.