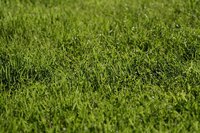 A lawn can make or break the look of a home, so most homeowners go to great lengths to ensure healthy, green lawns. Texas A&M Agricultural Extension reports that in the state of Texas alone, lawn care is a multi-billion dollar industry. Homeowners can keep a few of those dollars in their pockets by maintaining their lawns themselves following lawn care tips designed especially for Texas.
Select Grass Carefully
Selecting the type of grass for your location in Texas is paramount to lawn care. Texas A&M Agriculture Extension recommends St. Augustine, Bermuda, Buffalo, Centipede, Tall Fescue and Zoysiagrasses for Texas homeowners because these grasses have been cultivated to grow well in the Texas climate. Keep in mind, some of these species may do better in one part of Texas due to factors such as tolerance to shade, cold and salt. Research which grass will perform best in your home environment.
Caring for New Sod
Care for new sod well by preparing the soil before it is installed. Have it tested and add organic elements to enrich it before lightly tilling it and removing anything such as rocks, clumps, plants or weeds that will impede the growth of roots. Lay sod quickly and water it thoroughly once a day for two weeks.
Fertilize Consistently
Texas soil has high levels of phosphorous and low levels of nitrogen. Use a fertilizer with a high nitrogen content and zero potassium or phosphorous, unless soil tests show a deficiency in either of the latter nutrients. Depending upon the variety of grass, fertilize quarterly or monthly. Fertilizer is key to lawn care in Texas, so apply it consistently according to the package directions.
Lawn Mowing
It may come as a surprise, but each variety of grass has an optimal mowing height. This means that it performs best when it is not overmowed. This optimal height varies from .75 to 3 inches, depending upon the type of grass. Mowing your lawn only enough to remove a third of each blade at one time ensures lawn health and density of the turf.
Sharpen Mower Blades
The sharpness of your mower blades is just as important as mowing height. Sharp blades damage grass plants less than dull ones, so sharpen the blades yourself once a year or have them sharpened at a mower shop.
Watering Texas Lawns
In drought-prone states like Texas, water may be rationed. Exact rationing methods differ by water district, but regardless of rationing schedules, deep and infrequent waterings are best for lawns. Texas A&M University recommends enough water to wet the soil six inches deep once a week.