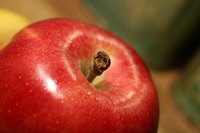 Since childhood, you've been admonished to eat your fruits and vegetables. It's no secret that these kinds of fresh foods are good for your body. But in research emerging since 2001, there have been claims in the medical community that some fruits and vegetables may also be beneficial for your memory.
Leafy Greens
Leafy green vegetables such as spinach, kale, collard greens, Swiss chard, and mustard greens all have one memory-boosting component: a form of vitamin B called folate. This vitamin helps protect your nerves from homocysteine, a hormone whose production increases with age that can damage nerve cells, leading to memory loss and, in severe cases, dementia.
Red Fruits and Vegetables
Red apples, tomatoes, strawberries, cherries and red peppers all get their vibrant color from a nutrient called Lycopene. This nutrient has been shown to reduce the effects of free radicals on your body and help improve memory function. If those benefits weren't enough, Lycopene has also been linked to the prevention of prostate problems, cancer, skin damage from the sun and heart disease.
Purple Vegetables and Fruits
Purple veggies and fruits like blueberries, eggplant, purple cabbage, plums and rhubarb all contain a vitamin called anthocyanin. Anthocyanin helps memory function by preventing cellular muscle degradation, which can cause blindness and a loss of short term memory. Making sure to include these foods can also help improve motor skills in children during their developmental stages.