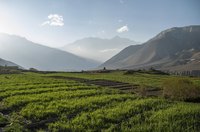 Farmers in India finance operating needs, short- and long-term goals, working capital constraints and expansion objectives by raising funds on securities exchanges and from private investors. They also use government subsidies, grants and tax incentives to fund operations by applying for such subsidies, meeting designated investment criteria and hiring local workers.
Government Subsidies
Public authorities in India provide grants, subsidies and tax incentives to organizations or individuals abiding by governmental guidelines and willing to invest in designated fields or sectors. Such guidelines could mandate building and maintaining agricultural infrastructure for periods of time, hiring local farming specialists and investing in economically disadvantaged areas in the country. Officials could also provide financial assistance—through export finance programs—to exporters who invest in designated crop categories.
Foreign Direct Investments
Foreign organizations willing to establish local businesses in the country engage in joint-venture agreements with Indian partners, invest in farming companies operating in zones with profit potential, acquire local operators or build new subsidiaries. Multinational organizations engaged in development aid, such as the International Monetary Fund or the World Bank, also may provide financing to farmers. Such institutions could provide low-interest loans, grants or subsidies to entities with funding needs.
Bond Issuance
Farming companies may raise funds to finance expansion projects, meet operating needs and maintain adequate working capital ratios by issuing debt products on India's securities exchanges such as the Bombay Stock Exchange and the Delhi Stock Exchange. Entities receive proceeds from bond investors—or bondholders—and pay interest periodically. They reimburse initial amounts loaned at maturity. Organizations not listed on securities exchanges may raise cash by selling debt products to investors privately. Investment bankers help arrange such private transactions.
Equity Issuance
Organizations may raise cash by selling shares of equity to investors on securities exchanges. Entities not listed on exchanges may, under the guidance of investment bankers, sell shares privately to investors. Equity buyers—also called equity holders, shareholders or stockholders—hold voting rights and are invited to annual shareholders meetings. They also receive periodic dividends and make profits when share values increase. For example, a New Delhi-based farmer seeking to finance large fertilizer purchases could issue shares on securities markets and use proceeds to undertake such purchases and issue dividends when crops are sold.
Farm Loans
Farmers may apply for private loans, also called farm loans, with financial institutions such as banks, insurance companies and mutual funds, if they are not listed on securities exchanges or funding costs on such exchanges are high. They receive funds from lenders and agree to pay fixed amounts periodically, usually monthly or quarterly. Lenders verify farmers' financial information, business-performance indicators, operating metrics and working capital constraints to grant loans.