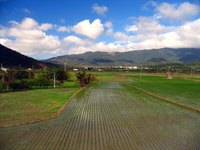 Many people think that growing plants simply involves sunlight and water, but they are missing a key step to keeping plants healthy. While a weekly watering may suffice for houseplants, those interested in growing vibrant gardens, healthy lawns or productive crops must also use fertilizer. Fertilizer encourages root health and strong growth. The International Crops Research Institute for Semi-Arid Tropics identifies three main ways of applying fertilizer safely.
Broadcasting
The broadcasting method of fertilizer application distributes the fertilizer equally over the whole area. Farmers and gardeners generally employ the broadcast method of application for plants or crops that are densely packed and not planted in individual rows; if your whole garden is a dense packet of flowers or vegetables, the fertilizer is needed everywhere.
Broadcast application also benefits plants that have long root systems that spread out far into the soil; even if the plants themselves are not densely packed, their roots will be. Spraying the fertilizer everywhere ensures that all of the roots have access to the nutrients.
Broadcasting method is used for nutrients that benefit most crop and plant species. For instance, most plants need nitrogen and potassium to thrive, and so these two nutrients can be applied by broadcast method, because they are needed everywhere in your lawn or garden.
Remember that broadcasting fertilizer encourages growth in the whole area; this can include weeds and other undesirable plants.
Placement
Placement application method is more specialized; it applies the fertilizer only to bands or pockets near target areas. This will prevent growth in areas that are undesirable.
Placement application can be conducted in a number of ways. Some gardeners spread fertilizer in bands to one or both sides of rows of vegetables or flowers. Others place the fertilizer carefully in designated spots next to certain plants. The method for placement varies by crop and garden design.
Specialized nutrients such as phosphorus must be placed near plants that need it; other plants may be harmed by such a strong nutrient. Placement is also popular for use when only small quantities of fertilizers are needed for plants, when plants are spread out in wide rows and with shallow-rooted plants that do not spread far.
Foliar
Foliar application uses both low and high volume sprayers to apply fertilizer directly onto the plants so that they are fully covered. The fertilizers are first dissolved in water to dilute them; undiluted fertilizers could harm the plants with which they come in contact.
Foliar application must be reserved for specialized fertilizers. In general, micronutrients such as ammonium and sulfates are applied by foliar method, because strong concentration can damage plants.
The foliar method can be effective in correcting nutrient deficiencies in individual plants; the nutrient can be applied directly to a single plant to help it thrive. This method is also common with fruit trees.