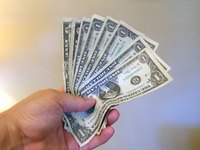 According to a poll conducted by The Dollar Stretcher website, more than 50 percent of the site's visitors are experiencing financial stress in one form or another. Financial stress can affect one's quality of life and wreak havoc on marriages. There are a number of circumstances that can lead to the onset of financial stress.
Credit Card Debt
Excessive credit card debt can cause financial stress. People may fall victim to the lure of easy credit and eventually find themselves so far in debt that they will have difficulty becoming completely debt free. Some people can only afford to pay the minimum due each month, which makes them feel they are treading water with their debt instead of reducing it.
No Savings
According to WealthWebGurus.com, the average savings rate in the United States is between 2 and 5 percent of income as of 2010. Such low savings levels can cause people to worry about having the means to cover financial emergencies or to be able to afford retirement. Parents may also worry that they won't be able to have the money to send their children to college.
Declining Real Estate Market
For many people, owning a home is their single largest investment. A decline in the real estate market, such as the one experienced in 2008, can cause people to worry that their investment won't provide the long-term financial security they had hoped for. People may also be concerned that they won't be able to sell their home at a profit.
Failure to Budget
People who don't prepare a household budget may lose track of how they are spending their money. As a result, they may not have the funds on hand when it comes time to pay the monthly bills, which leads to stress. Lack of a budget may also contribute to a lack of money set aside for savings.
Risky Investments
People may gamble on a huge return by placing large amounts of money in high-risk investments such as the stock market. A sharp dip in daily stock prices can create stress, and a long-term market downturn can result in the investor losing most or all of his investment, perhaps even his entire savings.