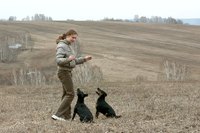 MSM is a natural supplement that is used in both humans and animals to ease joint pain and create healthy hair, skin and nails.
MSM
According to Natural-dog-health-remedies.com, MSM (Methyl-sulfonyl-methane) is a sulfur compound that naturally occurs in the body. It is most abundant in the joints, hair, skin and nails. It is found in foods such as fruits, nuts, vegetables, and cow's milk; however, it is water soluble and evaporates during cooking and in storage. MSM can be found in supplement form.
Benefits for Dogs
As the body ages, in both humans and dogs, MSM retention decreases and joints can get stiff and inflamed. MSM supplements are thought to cause relief for join pain by replenishing some of the lost MSM. According to Natural-dog-health-remedies.com, it is given to dogs primarily for joint and connective tissue support, pain relief for hip dysplasia, arthritis, and joint problems, maintaining healthy hair and skin, and relief of allergy symptoms. Also, MSM can also have anti-parasitic action against roundworms, Giardia and other intestinal worms.
Health Effects
According to Nwhealthsolutions.com, veterinarians have been using MSM to treat chronic pain in animals, including dogs, for more than 35 years. There are no known side effects, according to Natrual-dog-health-remedies.com.