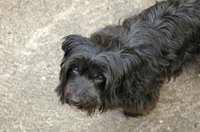 If you have noticed bare patches of skin on your dog, you may have just identified a case of mange. Mange is a potentially serious skin condition caused by mites that burrow beneath the surface of the dog's skin. Knowing how to recognize the stages of mange can help you catch the condition early so you can start the proper treatment.
Bare Patches
The first stage of mange can be small bare patches in the dog's coat. These bare may appear on the face of the dog, or on the dog's body as well.
Irritation
What distinguishes mange from other causes of bare skin is the fact the the mites which burrow beneath the dog's skin cause irritation. The skin may become inflamed as well as itchy, causing the dogs to scratch at these areas.
Affected Skin
The skin may become crusty, as well as appear dry and wrinkled. The pigment, or color, in the areas affected by mange changes, looking different from the hue of the skin on other areas of the dog. The skin can also become thicker to the touch.
Smell
As the mange infection worsens, the dog's skin may develop an odor that's similar to spoiled cheese.
Blisters or Sores
If the mange infection worsens still further, then blisters and sores can result.
Generalized Mange
The mange may start out in one area, then spread to other parts of the body. When the patch is in one area, it is considered localized, and if it spreads to the rest of the body, it becomes generalized mange. When the mange becomes generalized, the rest of the dog's coat becomes thin as well as patchy. Ear infections may accompany the mange as well.