The advice to consume fish at least twice a week is based on the fact that fish are the best sources of two types of omega-3 fatty acids that fight inflammation and promote heart health. You can also get the same fatty acids -- eicosapentaenoic acid, or EPA, and docosahexaenoic acid, or DHA -- from fish oil capsules. Fish oil supplements are considered safe for most people, but they can still cause side effects in some people, so consult your health care provider before taking them.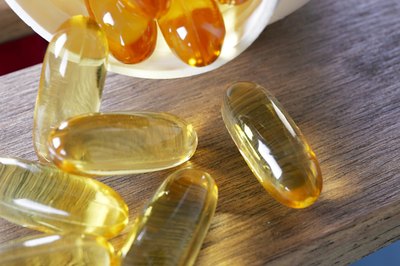 Fight Inflammation
Inflammation is part of the natural healing process, but when it persists too long, it can lead to chronic diseases such as cancer and diabetes. The omega-3 fatty acids in fish oil fight this type of damaging chronic inflammation.
Your body makes compounds, called resolvins, from EPA and DHA. Resolvins help stop the inflammation process and reduce existing inflammation, reports the Medical Biochemistry Page. They also regulate the production of proteins that promote inflammation.
Support Heart Health
The anti-inflammatory effect of EPA and DHA benefits your cardiovascular system by reducing the risk of atherosclerosis, or hardening of the arteries, according to a report in Molecular Nutrition and Food Research in July 2012.
EPA and DHA also lower your risk of coronary heart disease by reducing blood levels of triglycerides, improving the function of blood vessel walls and lowering blood pressure, according to studies cited in the January 2014 issue of the Journal of the Academy of Nutrition and Dietetics.
Fish Oil and Prostate Cancer
In a long-term clinical trial studying the relationship of various nutrients to prostate cancer, researchers found that men who were diagnosed with prostate cancer had higher blood levels of EPA and DHA than men who didn't develop cancer.
This study does not prove that fish oil causes prostate cancer, but omega-3 fatty acids might somehow be involved in the cancer's development, according to the report published in July 2013 in the Journal of the National Cancer Institute. Talk to your physician before taking fish oil supplements if you're at a higher risk for prostate cancer.
Health Warnings
Taking too much fish oil may interfere with blood clotting and increase the risk of bleeding. High doses also might cause bleeding in people with liver disease, according to MedlinePlus.
If you're allergic to any type of fish, do not take fish oil supplements. Fish oil may be contaminated with a small amount of proteins that cause allergic reactions, reports Food Allergy Research and Education.
Fish oil has the potential to aggravate several medical conditions. If you have depression, bipolar disorder, diabetes, a weakened immune system, HIV/AIDS or you take medications to lower blood pressure, talk to your health care provider to be sure fish oil is safe for you.