Maintaining your yard and garden requires tasks throughout the year, even in areas with cold winters. Whether pruning dead limbs, planning seed purchases or renovating a lawn, making a checklist for your outside chores keeps you on track to have a healthy and vibrant yard. Depending on your climate zone and year-to-year weather patterns, you may need to adjust the average chore list based on your climate and goals.

Winter
Winter lawn and garden chores will vary depending on your climate and the severity of the current year's weather.
December and January
Avoid using salt or other snow-abatement products near plants. When shoveling or removing snow, be aware of where you pile it, especially if you live in an area where street salt might spread onto your walkway or drive.

Order seeds in January for the best selections and to ensure they arrive in time for starting indoors or planting as cool weather crops.

Knock heavy snow off plants to prevent branches from bending and breaking.
February
Prune fruit trees and early bloomers in February before the sap begins to flow. Remove dead limbs, crossed branches and suckers.

Spring
As winter ends and spring begins, many chores need to be completed in the yard and garden. Throughout spring, you'll have many tasks to do to maintain, prepare and plant.
March
Prune trees and deciduous shrubs before they flower or leaf.
Plant bare root trees and shrubs as soon as the soil can be worked in your area.
Apply fertilizer to wood-stemmed plants and shrubs once soil temperatures stay above 40 degrees Fahrenheit.

Sow cool season vegetable seeds.




Check on fruit plants and remove any dead branches or winter damage. Prune fruits for size.

Start summer vegetable seeds indoors about 6 to 8 weeks before your last average frost date.
Plant spring bulbs.
Prepare garden and planting beds.
April
Cut back ornamental grasses, leaving only a couple of inches.

Apply grass seed as needed to fill bare spots.
Plant burlap-wrapped trees and shrubs. Plant or divide hardy perennials.
Remove any weeds, old growth and other unwanted plant material from your lawn and garden.
Spread a pre-emergent weed killer on your lawn, if needed.
Fertilize your lawn using a fertilizer with 50 percent slow-release granules. Use about 1 pound per 1000 square feet.
May
Plant direct-sow seeds in the garden.

Plant annuals.
Transplant seedlings and start seeds in the vegetable garden.
Protect panting beds with a fresh 2-inch layer of mulch.
Summer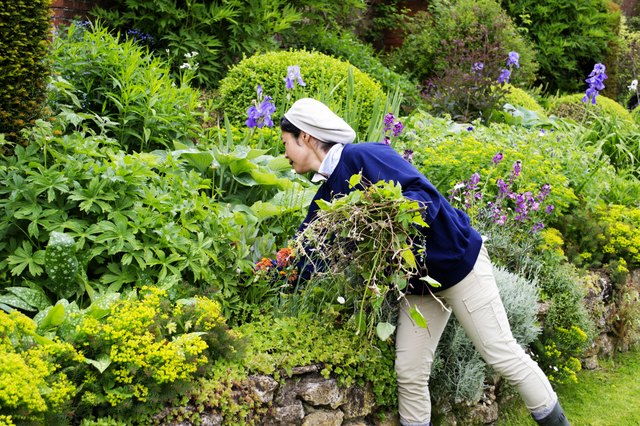 With spring chores finished, summer yard and garden tasks include watering, weeding and enjoying the fruits of your labor.
June
Weed planting beds as needed.

Stake tall plants as they grow to keep them upright.
Deadhead early spring flowers on perennials.
Prune flowering deciduous shrubs.
July
Water your lawn and plants as needed in the early morning hours. Most plants and grass need at least 1 inch of rain each week or supplemental watering.

Plant seeds for fall crops, such as greens.
Continue to maintain perennials, shrubs and trees by removing bugs, dead material and treating them as needed with pest control.
Trim evergreen shrubs.
August
Track rainfall and continue to water all plants as needed.

Weed all planting beds.
Monitor plants, trees and shrubs for insects and treat as needed.
Fall
Fall ranks as one of the busiest times in the lawn and garden. Not only will you finish up any harvesting, but you will also clean and prep for winter.
September
Continue harvesting, watering and weeding as needed.
Apply a lawn fertilizer high in nitrogen at a rate of 1 pound per 1000 square feet.
Plant spring flowering bulbs late in the month.
October
Remove or mulch leaves regularly.

Aerate the lawn.
Continue to harvest plants, including root vegetables.
Dig up and store bulbs that won't survive the winter in your zone.
Plant shrubs and trees.
Collect seeds from plants.
November
Clean up leaves, debris and fruits from your yard.

Cover winter crops with a row cover or cold frame.
Loosen mulch and apply more if needed to protect shallow-rooted plants during winter.
Cut back perennials and remove annuals that have finished growing for the season.
Store or cover patio and lawn furniture, lights and accessories.