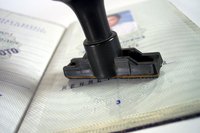 Peru offers several different visas for people who wish to come to the country. Due to the fact that it is such a huge decision to immigrate to Peru, the Peruvian government initially allows a person to live in Peru on a nonimmigrant visa before they are required to apply for an immigrant visa to Peru. Business visas and student visas are some of the most common ways to progress to an immigrant visa.
Passport
A valid national passport will be required to be submitted to the Embassy of Peru before you will be allowed to enter the country. A valid passport is considered to be a passport that is valid for at least six months after the intended expiration date of the nonimmigrant visa. Once you apply to migrate to Peru, you will be able to apply for a passport extension with the United States embassy in Peru.

Visa Application and Fees
You will have to complete a nonimmigrant visa application form with the Embassy of Peru before you leave the United States. After you enter Peru, you will be able to apply for an immigrant visa. You will be able to do so by filling out the appropriate application from (the form will state why you wish to stay--for school, work, or family) and filing it with the Peruvian government. There will also be fees that must be paid when you file both your nonimmigrant and immigrant visa application forms.
Student Visa
A student visa is intended for people who wish to study in Peru. If you wish to apply for a student visa in hopes to later apply to be a migrant to Peru, you will need to show proof of acceptance into a Peruvian university along with all of the other necessary application documentation.
Business Visa
If you intend on coming to Peru on a business visa, you will be required to show a letter to the Peruvian immigration stating the purpose of your business in Peru and how long your business will take within the country.
Work Visa
For those who intend on working in Peru then eventually migrating to the country, you will have to provide documentation stating that you have secured a position in Peru. You must be able to provide a work contract along with the other visa application documentation.