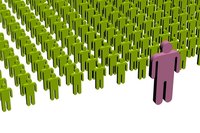 Corporations are most successful when employees feel valuable and appreciated, which tends to lead to increased commitment, loyalty and productivity. Developing a positive organizational culture, one that refers to the beliefs, values and behaviors that the business applies to everyday challenges, falls squarely on the shoulders of the company's executive leaders. Leaders who encourage creativity and honest communication can foster an organizational culture that can maneuver around any challenge successfully.
Clear Priorities and Goals
Leaders are tasked with unearthing the vision and goals of an organization and then explaining those metrics to employees and enforcing them through action. This gives employees a clear understanding of what is most valued by their organization and helps them determine how they can align their daily work with overall business goals.
Good Communication
Leaders who employ an open-door policy, remaining highly accessible to their staffs and encouraging frequent and honest dialogue, can quickly gain the respect and loyalty of their employees. If employees feel that they have been mistreated, productivity will suffer. When employees feel they have been treated unfairly, they are also more likely to have higher levels of conflict and even to quit, according to a survey by the National Business Research Institute.
Embracing Change
A corporate leader who encourages continuous learning and embraces change helps to define an organizational culture that is flexible and modern. Rather than fearing condemnation for suggesting different directions, employees in this kind of environment will feel free to express their innovative ideas and opinions, leading to higher morale and productivity.
M&A Guidance
Employees who work for companies that are involved in any type of merger and acquisition activity look to their leaders for guidance on how to position themselves during the transition. Positive employee perception of their leadership is critical to having a successful merger, according to a study by the Human Capital Institute and the Towers Perrin consulting firm.