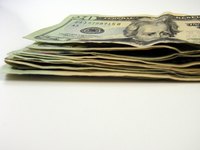 If you're tired of working a nine-to-five job, you've probably searched for alternative ways to earn income. As far-fetched as it may seem, you can make a living without holding down a traditional job. It may take a while to earn a steady income this way, so don't quit your day job just yet.
Write Online
If you have expertise in a certain area, many sites are willing to pay for your article submissions. Even if you're a creative writer, there are sites that will pay you for your work based on page views. Writing for a number of different sites that pay for your submissions is one way to go, or you could work exclusively for one particular site. Freelance writers get paid for published submissions, for page views or by both methods. Writing often and promoting your work will help you make more money.

Sell Your Stuff
Consider taking advantage of sites like Craigslist, eBay and Amazon. Selling items that have been sitting in your closet or garage for years or selling crafts that you make in your free time are two options. Some people pick up free items on Craigslist, fix them up and then turn around and sell them for a profit.

Do Odd Jobs
Can you put in 25 hours a week doing odd jobs? Pet sitters earn around $10 to $20 per day and babysitting may bring in more per hour. If you're not an animal person or a kid person, ask neighbors if they need someone to wash their cars, mow their lawns, shovel their driveways, rake their leaves or haul junk from their garages or basements.
Become a Guinea Pig
Researchers need willing participants to act as test subjects. Participants usually test drugs that are sent to medical research firms by drug manufacturers. These drugs may be taken orally, by injection, or topically. Sometimes drugs aren't given at all. Instead, subjects may go through certain procedures or medical tests. Another way to earn money in the medical industry is by giving blood, plasma or even your hair.
Blog for Cash
Although there are already thousands of blogs on the web, writers with solid writing skills and interesting ideas are still likely to attract attention. After creating a blog, it's wise to study search engine optimization (SEO) to optimize your blog for top performance and to attract traffic. When you comment about and link your blog to other sites that you find interesting, people will begin noticing your blog. Keep comments professional but don't hesitate to add a little bit of personality.