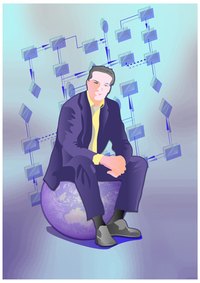 Human resources management system projects involve new and/or system upgrades of software used to capture information relating to the hiring, termination, payment and management of employees. HR uses systems to plan and analyze all components and performance of metrics-driven human resources functions, including recruitment, attendance, compensation, benefits and education. Human resources management systems should align for maximum operating efficiency with financial/accounting/operations, customer relationship management, security and business lines of the organization.
Proposed HRMS Project
Aligning the human resources management and enterprise resource planning systems optimizes each system. Automating the human resources management system and enterprise resource planning yields reliability, shorter processing schedules, rapid recovery, flexibility, scalability and responsiveness to inquiry. Maintaining complete, continually updated employee records in uniform format once required many human hours.
Self-service access enables employees to view payroll information, W-2 forms, benefits changes and services enrollments or adjustments. Similarly, customers interacting with the self-service, web-based environment benefit by ease of use and access to orders placed, arrival times and other information.
The proposed combined interface also accepts new applicant resumes and prompts HR review and action. Web-based application and information collection expands the recruiting function while efficiently managing costs and delivery of applicants.
The applicant tracking system maintains records and provides searchable records for new hiring requirements.
Proposed Time Line
Survey of literature, analysis and design of existing human resources management system completed within five working days. New coding, then review of literature and coding changes completed within ten working days. New and expanded documentation, revising and updating all project documents, completes within four business days. The total time required to fulfill the human resources systems management alignment completed in approximately 150 project hours, billable at $90 per hour.
Systems
Working with existing systems, including Windows 2000/NT/XP, Oracle Relational Database Management System/RDBMS, SQL Server 2000, Microsoft Visual Studio .net 2003 software and ASP.net web applications front-end tool involves no additional systems implementation. However, upgrades to organizational systems in future would improve operations of the aligned human resources management and enterprise resource planning systems.
Hardware
Existing hardware, including Intel P4 1.5 GHz and higher, purchased by the organization two years ago, 512 MB to 1 GB Random Access Memory and 80GB HDD 2.0 USB backup hard drives are required.
Transformational Process
The human resources management systems project targets functional, transactional activities: automation, elimination and overall streamlining implementation reduces operational expenses. Linking project time line, costs and projected savings of more than 400 work hours billed by human resources clerks in 2009, goals of reducing HR budget by ten percent in 2010 should result.