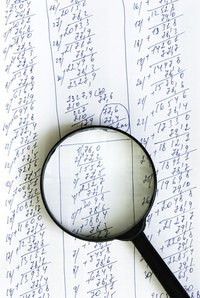 When you are going about the day-to-day business of using QuickBooks, sometimes there will be a mistake made when creating accounts. Every account in your company file is located in the Chart of Accounts located under the "Lists" button in the top menu bar. You can add, delete or change accounts within that Chart of Accounts, but some accounts you cannot change; preventing these changes helps avoid accounting nightmares should a mistake be made.
Accounts Receivable and Payable
The accounts receivable and payable cannot be changed. When an invoice is entered into QuickBooks, the amount owed on that invoice is automatically entered into the A/R. When a bill is entered into Quickbooks the amount of the bill is automatically entered into the A/P. You cannot change this type of account, nor would it be advisable to do so, as the automatic process of QuickBooks should not be altered in any way.
It is also not possible to change another account type to either an A/R or A/P account. If you examine your chart of accounts and neither the A/R or A/P is there, it's likely that there hasn't been a transaction entered that would automatically create these accounts.
Undeposited Funds and Sales Tax Payable
When a customer pays you, whether you use the sales receipts or invoicing features, the amount that they pay is automatically placed into the "Undeposited Funds" account. This account is like the 'bank bag' of old, where the checks and cash you are taking to the bank are placed until you arrive at the bank. When you do go to the bank, you click the "Make Deposits" button and check all the undeposited amounts you are taking with you in the 'bank bag'. Since this account and the sales tax payable account are both automatically created, you may not change this account type. The sales tax payable account is like the 'bank bag' for all sales taxes owed to the state, which is collected and held with each purchase to be paid on a quarterly basis.
Accounts with Sub-Accounts
To keep accurate business records, sometimes accounts are split into sub-accounts. For example, if your business is a lawn maintenance company and you both mow lawns and design landscapes you can divide your accounts in this way: Create the Income account, "Services". Create a sub-account for "Mowing" and another for "Landscape Design" under the "Services" account. This will help you keep track of where you are making the majority of your revenues. You may do the same thing with expense accounts (i.e., Utilities>Electric).
If it becomes necessary to delete "Services" however, you won't be able to do so because any account with a sub-account cannot be deleted. You may however, remove each of the subaccounts by unchecking the sub-account box located in the edit account screen. Uncheck each subaccount, which essentially makes each sub-account it's own parent account. You may then delete the account or change it's type if necessary.
One at a Time
For those account types that can be changed, it is helpful to remember that you cannot change more than one account type at a time. The process for changing the account type involves opening a specific account individually to make the change. There is no way to 'bulk change' many accounts simultaneously.
Precaution
It is never recommended that the account types in QuickBooks be changed. When it becomes necessary to do so be sure that you make a backup of your company file and save it to a flash drive or CD ROM. This can ensure that if the change in type affects the file negatively, that you can restore the backup made prior to the change and begin again. To make a backup, click on the "File" button on the top menu bar and scroll down to the "Backup File" tab. Click once and allow the process to complete. It takes about ten to twenty minutes, depending on the size of the file.