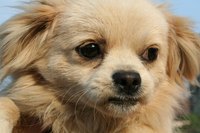 Chronic kidney failure occurs not when a dog's kidneys cease to function, but when they cease to do their job during that function. As the body's filters, healthy kidneys filter the blood, moving toxins and waste fluid into the bladder, and putting clean blood back into circulation. When they fail to do this, a dog experiences kidney failure. Kidney failure is fatal, and displays some serious symptoms toward the end.
Fatigue and Depression
One of the kidney's functions is to release erythropoietin, which signals the body to make and release red blood cells. Red blood cells ferry oxygen from the lungs to the cells of the body. A dog with damaged or failing kidneys therefore starves for oxygen, as its red blood cell count goes down. The result, in advanced kidney failure, is fatigue, depression and lethargy.
Vomiting and Anorexia
This lethargy is exacerbated by a dog's inability to eat during advanced kidney disease. Because the kidneys have stopped filtering blood, the dog's bloodstream is flooded with toxins. These toxins make it impossible for the dog's digestive system to work, so it begins to reject food. Vomiting quickly leads to anorexia, as a dog's body accepts the inability to process food, and hence to weight loss.
Swelling of Abdomen
Despite this weight loss, a dog with kidney failure begins to take on a pot-bellied appearance. As its kidneys move into the final stages of failure, and continue to fail in their filtration duties, they retain the fluid that they should be sending to the bladder. They become swollen and painful. Anorexia, accompanied by swollen kidneys, signifies that kidney disease has reached its end point and is untreatable.