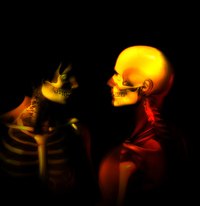 Vitamin D2, also known as Ergocalciferol, is a vitamin supplement that is administered when typical Vitamin D is not sufficient. Certain disorders resist the effects of Vitamin D1 and Vitamin D2 became the central form of treatment for calcium and phosphate deficiencies. While Vitamin D2 is considered an inferior and, in some cases dangerous, alternative to Vitamin D3, Vitamin D2 retains its benefits and uses.
Calcium and Phosphate Supplement
Vitamin D2 can be used to boost calcium absorption in the stomach and phosphate levels in the blood. Calcium maintains bone density and phosphates are used to repair bones and teeth.
Treatment of Hypoparathyroidism
Hypoparathyroidism is the weakening of the parathyroid gland, which regulates calcium in the bones, kidneys and intestines and phosphates in the blood.
Treatment of Rickets
Rickets is a bone disorder caused by a deficiency of Vitamin D. Some forms of rickets are resistant to Vitamin D1, so Vitamin D2 is used as a substitute.