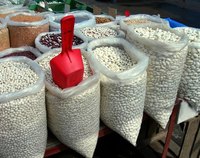 In 1776, Scottish economist Adam Smith called for an economy where people could engage in trade with citizens of other countries free from protectionist restraints imposed by government. Two-plus centuries later, the debate about the virtues and defects of his vision goes on. The issue is particularly complicated when discussing free trade between developed countries and those in the developing world: The latter often lack the leverage to negotiate successfully under free-market conditions as they generate less than 1 percent of global trade flows. However, for many people in developing countries free trade represents their only opportunity to emerge from poverty.
Goods Become Affordable
By providing developing countries with access to affordable goods, free trade improves the overall standard of living of the population. "Opening up the Jamaican milk market to U.S. imports in 1992 may have hurt local dairy farmers...", Nobel laureate Joseph Stiglitz said in his book "Globalization and its Discontents," "but . . . it also meant poor children could get milk more cheaply." Regarding lost jobs (usually regained in other sectors of the economy), the World Trade Organization says: "The right way to alleviate their hardship is through social safety nets and job retraining rather than by abandoning reforms that benefit most people."
Jobs Are Created
When goods can be moved across borders at little or no cost, they can be produced in the place where most efficient production is achieved. Because of the low cost of labor, this results in a migration of labor-intensive industries toward developing countries. "People in the West may regard low-paying jobs at Nike as exploitation, but for many people in the developing worlds, working in a factory is a far better option than staying down on the farm and growing rice," Stiglitz wrote.
Natural Resources Are Harnessed
Many developing countries have access to vast reserves of natural resources and raw materials, but lack the capital required to exploit them. Peruvian President Alan Garcia said in an editorial in El Comercio, the rich resources of the Peruvian jungle are being wasted because of a lack of capital. "There are millions of hectares of timber lying idle, another millions of hectares that communities and associations have not and will not cultivate, hundreds of mineral deposits that are not dug up," said Garcia, who called for private and foreign investment to tap those unused natural resources.
Trade Is More Valuable than War
Daniel Griswold, director of the Center for Trade Policy Studies at the Cato Institute in Washington, argues that growing commercial ties between nations has a dampening effect on armed conflict. Freedom to trade leads to people getting in contact with one another, encouraging democracy. As national economies become more integrated, the cost of war increases as trade and investment are scared away. In a globalized world, the most valuable assets are intellectual property, financial assets and human capital . . . and those cannot be seized by armies, making trade more valuable than war.