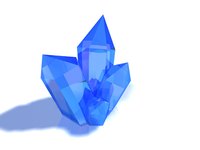 Crystals in urine can be formed from a variety of foods, liquids and even medications. Over time, these crystals can form stones of various compounds that lead to painful blockages in the kidneys, ureter or bladder. Some stones can be so large that passing them through urination is impossible, and surgery is required.
High Uric Acid
A diet heavy in foods that contain high amounts of uric acid can contribute to crystals in the urine. Green vegetables such as asparagus, spinach and green peas, and other food sources such as mushrooms, contain high amounts of uric acid that can build up in the kidneys and the joints causing a form of arthritis known as gout. Uric acid stones in the kidneys can develop from excessive body weight or as a precursor to the onset of diabetes.
Calcium Oxalate
A diet consisting of large amount of foods containing calcium oxalate will contribute to the formation of crystals in the urine. The shape of the calcium oxalate compound is needle-like, which can produce painful kidney stones if a large enough amount of crystals are present in the urine. Root vegetables such as sweet potatoes, rhubarb and soybean contain high amounts of calcium oxalate along with black tea, peanuts, okra, wheat and chocolate.
Crystals From Infection
Infection from urea-splitting bacteria leads to an increased production of ammonia in the urine. The buildup of ammonia in the kidneys leads to the formation of magnesium ammonium phosphate crystals. These are more commonly referred to as triple phosphates. Bladder and urinary tract infections lead to large amounts of triple phosphate crystals in the urine, which can be quite painful to pass due to the large shape of the crystals.