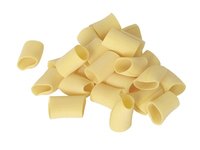 The successful marketing of food products translates into increased sales, faster turnover and higher profits. Food marketing can apply to products found at grocery stores, restaurants or quick marts. Choosing the right strategy entails a review of the current competition, product details and long-term marketing objectives. The most beneficial marketing strategies for food tie the product type to an approach that allows for immediate customer recognition and matches consumer preferences.
Offer Low Prices
Become the low-cost leader for your food product segment. The goal is to target price-sensitive consumers who will choose your products over those of your competitors. Successful implementation of a low-cost marketing strategy requires a dedication to low overhead and streamlining production to support a high sales volume. On each sale, your food products will generate only a small amount of profit, but your total gains will grow through high turnover.
Stress Special Features
Make your products stand out from your competitors with special features. Consider offering products in different flavors, with different ingredients, or for a specific purpose. For example, differentiate a flour product as a special frying blend, for use in bread products, or offer flour enhanced with herbs and seasonings. Support this food marketing strategy by enhancing product packaging, tailoring advertising to promote the special features of your product, and through in-store presentations.
Create a Niche
Create a niche for your food products. Consider organic foods, green production, medically helpful food products, or another customer demographic (such as age) that can boost your product's appeal to a specific subset of the population. Implementing a niche marketing strategy may require product modifications, specialized packaging, and customized product placement.
Focus on Luxury
Present your food product as the premier item in your competitive market. Promote high-quality ingredients and other items that distinguish your good as a luxury product worthy of a higher charge. Support your product through elegant packaging, heavy advertising and key product placement in stores. The goal is to get customers to buy your product at a higher price, which will offset lower sales and marketing expenditures.