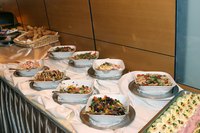 With its heavy concentration of various ethnic groups, New Jersey is known for quality restaurants that serve a wide variety of both American and international cuisine. New Jersey is nicknamed the Garden State and many of its restaurants have salad bars to take advantage of the state's outstanding selection of fresh produce. Guess it isn't called the "Garden State" for nothing!
Kaya's Kitchen
Open every day but Monday and offering a Sunday brunch starting at 10 a.m, Kaya's Kitchen is located in Belmar along the New Jersey Shore and in the central part of the state. The restaurant features a 95 percent vegan cuisine and features a complimentary all-you-can-eat salad bar that comes with a dinner entree. Kaya's menu has over 100 dishes and vegetable desserts. In addition to the salad bar and dinner entrees, the restaurant has a wide variety of homemade soups and sandwiches. Live musical performances and poetry readings are offered on Friday and Saturday evenings. The dining is casual and the prices are reasonable. The restaurant does not serve alcohol, but patrons may bring their own.
Kaya's Kitchen 817 Belmar Plaza Belmar, NJ 07719-2752 732-280-1141 kayaskitchenbelmar.com
Larry's II
Situated in Vineland in southern New Jersey, Larry's II was renovated in 1997 to include a large salad bar, additional seating and a kitchen that can now cater large events. Salad bar options include chicken Caesar, julienne, chicken and tuna salads for dinner and lunch. Along with the salad bar, the restaurant also has a good selection of homemade soups. In addition to dinner entrees such as steaks, sea food and chicken, Larry's II has a cafe for patrons who don't have time for a sit-down lunch. The cafe offers coffee, has free Wi-Fi Internet access and serves a selection of baked pastries and crepes. Larry's II also has a banquet room and catering service. The prices are on the moderate to slightly high side.
Larry's II 907 North Main Road Vineland, NJ 08360 856-692-0001 larrys2.com
Charlie Brown's Steakhouse
The Charlie Brown's Steakhouse chain has 35 restaurants in New Jersey that all have their own salad bars. One of them is in the central part of the state in Hightstown, which is open for lunch and dinner seven nights a week and has a cocktail lounge with a daily happy hour. The restaurant's "Unlimited Farmer's Market Salad Bar" offers 60 fresh items for lunch and comes with all dinner entrees. Selections at the salad bar include fresh vegetables as well as assorted cheeses and breads. Ham, roast beef and roast turkey are also included in the salad bar for lunch. Main dinner entrees at a restaurant with casual dining include sirloin steak, baby back ribs and prime ribs.
Charlie Brown's Steakhouse 60 Princeton-Hightstown Road Hightstown, NJ 08520 609-371-2238 charliebrowns.com