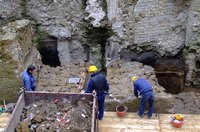 In times of difficult economic conditions or when looking to reduce labor costs, an employer may turn to contract labor as a temporary or permanent solution. Contract labor allows for the completion of necessary work tasks without the need for hiring and training additional employees. It can also eliminate the expense associated with maintaining a dedicated staff of employees.
Cost Savings
Hiring contract labor can result in a cost savings over bringing on permanent employees. Because the workers are not full-time employees, companies save on additional costs by not offering benefits such as health insurance or pension plans. The workers are not officially on the payroll, so this also saves in payroll taxes since they are not required to withhold taxes from the workers' paychecks.
Flexibility
Contract labor also offers employers the flexibility of bringing in workers only on an as-needed basis. For example, an accounting firm may hire tax preparers to meet the heavy work demand during the tax season, then terminate the assignment at the end of the tax season. This eliminates the need to carry unnecessary payroll during the remainder of the year.
Specialization
Contract labor can aid an organization by bringing in individuals with specific skill sets to solve a problem. If a new business is having difficulty establishing itself in the marketplace, it can hire a marketing consultant on a temporary basis to develop and implement a marketing plan to help it get off the ground.
Filling Vacancies Quickly
Contracting allows employers to fill an open position quickly without having to go through an extensive search. If an employee quits abruptly or is terminated, the employer can contact a staffing agency that may be able to supply one or several qualified, prescreened candidates on a temporary basis. If the employer is satisfied with the contract worker's job performance, it may even decide to offer a full-time position.
Ease of Separation
If an employer is not satisfied with the work of the contract worker, it's usually easier to part ways than with an employee. In the case of the temporary agency, if the first worker does not meet the job expectations or proves inadequate, the employer can simply request a replacement from the agency without having to pay toward unemployment benefits or offering a severance package.