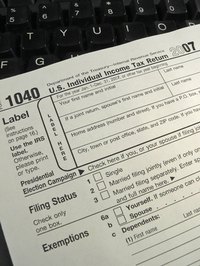 Making ends meet as a single parent can be quite a challenge. If you are filing taxes as a single parent, there are a number of special tax credits and exemptions available to make it easier to raise your children without financial hardship. Taking advantage of all the credits and rebates you have coming to you can put more money in your pocket and allow you to purchase the things you and your children need.
Exemption Information
In order to claim your children as exemptions, you need to provide complete identification information for each dependent, including each child's Social Security number and relationship to you. Be sure to complete this information for every dependent you are claiming.
The Earned Income Tax Credit
One of the most useful, and potentially lucrative, tax breaks single mothers have is the earned income tax credit, or EITC. The earned income tax credit is known as a refundable tax credit, which means that you can claim it even if you do not owe any taxes to the Federal government. No matter how much or how little money you make, it is important to check your eligibility for the EITC. Most tax preparation software includes an automated form for figuring your eligibility, while the IRS also provides an online tool to help you determine how much, if anything, you can claim on the EITC. Eligibility for the earned income tax credit is determined by your income and the size of your family.
Avoid Costly Refund-Anticipation Loans
While getting your refund in minutes might be attractive, it can also be costly. So-called refund-anticipation loans can be very expensive, so unless you are in dire financial straits it is best to file your return online, choose the direct-deposit option and wait the seven to 10 days it takes the refund money to reach your bank account.