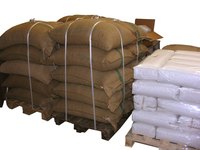 Working capital is an indicator of a company's financial health in the short-term. It is the difference between current assets--cash, accounts receivable and inventory--and current liabilities. Working capital demonstrates to investors the firm's ability to meet current financial obligations with current assets. Organizations may be profitable but still show negative working-capital measures, since customers do not pay immediately after receiving orders: credit terms could vary between 30 days and 120 days.
Accounts Receivable Selling
Organizations may meet working capital needs by selling their accounts receivable--the amounts owed by customers--to financial institutions or investors. They usually sell such accounts receivable at a discount. In other words, amounts received from buyers are lower than accounts receivable face values. This type of financing allows firms to receive cash immediately and also removes the financial risk of customer non-payment or default. For instance, if Company A has $1 million in accounts receivable due in three months, it may opt to sell such receivables for $950,000 to a bank--a $50,000 discount.
Credit with suppliers
Organizations also may finance working-capital requirements by asking for credit extensions on orders. Suppliers ship goods to such organizations and are paid beyond regular credit terms. This type of financing is based on transaction history, customer importance in suppliers' client rosters, and credit availability in financial markets. For example, Company B might ask its suppliers to ship $1 million worth of goods to be paid in six months. It can then sell finish products made from those goods at $1.5 million to customers on two-month credit terms.
Equity issuance
Organizations listed in securities exchanges may issue equity shares--or stocks--to investors. This type of financing is conducted through corporate finance departments and investment banks. Entities not listed in stock exchanges also may conduct private share placements to institutional investors such as asset managers, hedge funds and pension funds.
Debt issuance
Organizations also may issue debt securities to raise financing for working capital. They may sell bonds--which are long-term financing tools, or short-term instruments such as commercial paper, which are unsecured promissory notes due in 270 days or less. "Unsecured" means that borrowers have not pledged collateral--or assets--before receiving loan proceeds. Entities also may borrow directly from banks by applying for loans, lines of credit or overdraft agreements.
Hybrid Financing
Corporate finance specialists also may help firms issue convertible bonds or preferred shares. This type of financing is referred to as hybrid financing, and such instruments are known as quasi-debt because they hold equity and debt features. Convertible bondholders receive periodic interest payments similarly to regular bondholders. Preferred shareholders are paid periodic dividends and make profits when share prices increase.