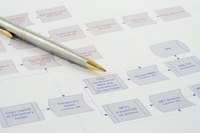 Companies structure their businesses to help meet their goals, execute their visions and to accommodate the needs of customers. Corporate culture plays a large role in the organizational structure businesses select for their companies. A flat organizational structure, also referred to as a horizontal structure, eliminates middle management and adopts a more casual, people-powered approach to running a business.
Employees Have a Stronger Voice
A flat organizational structure ensures that all voices are heard by encouraging employees to participate in the decision-making process of the organization. Ideas are welcomed and exchanged freely between managers and employees without complicated, extra layers of management in place. This type of structure makes employees more willing to share their opinions without fear of speaking out of turn. By encouraging an exchange of ideas, flat organizational structure taps into employee's creativity.
Ability to Easily Adapt to Change
Since flat organizations have less layers of management, when it comes time to make changes within the organization, it's easier for managers and employees to implement and adapt to change. There are less people to communicate changes to and with the elimination of multiple managers; changes are given directly to employees from top decision makers. This cuts down on confusion and leads to less communication issues. There's less ego involved and managers are less likely to be territorial with their projects and the people they manage. Whether it's a new process for handling customer orders or a new way to document expenses, flat organizations are designed to communicate these changes effectively.
Encourage Independent Thinking and Teamwork
With employees and managers working more closely to perform tasks, flat organizations create an environment that encourages both independent thinking and team work. Employees are more willing to take a look at the organization, indentify areas of concern and bring them to the team to discuss and come up with a solution. Employees also welcome learning new skills from fellow employees, which helps the overall business run more efficiently.
Highly Skilled Employees
In a flat organization structure, employees are trained to be highly skilled and capable of handling the responsibilities that are within their job function. Because employees work so closely with management, there's potential for cross-training. A flat organization structure makes it easier to determine which workers contribute to the overall goals of the organization and which workers are taking a lax approach to achieving goals and handling tasks.