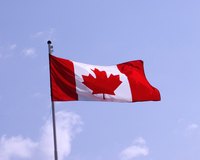 As of July 2009, Mexican citizens must apply for a temporary resident visa in order to visit Canada. First, fill out an application and mail it with the required documents to the nearest Canadian visa processing center. If you are traveling or legally reside outside of Mexico, you can submit your application to the nearest center. After reviewing your application, an embassy official may request an interview with you and a medical examination. This process can take considerable time, so apply well before your trip.
Students may receive expedited treatment. Tourists may as well.
Application
You can download a visa application and a guide explaining how to fill it out from the website of Citizenship and Immigration Canada. You may use the same application for you and your family. Make sure to fill out the entire application, sign and date it. You can send your application to any Canadian visa processing center. The centers in Mexico are in Mexico City, Guadalajara and Monterrey.
Documents
Once you have completed the application, mail the form with the following documents to a Canadian visa processing center: passport with at least six months until expiration; two passport photos of each person; visa fee receipt ($75 for single entry, $150 for multiple entry and $400 for a family, in Canadian dollars, payable to the Canadian Embassy at Scotia Bank with a receipt); proof that you can pay for your trip and supporting documents such as an itinerary, plane ticket or letter of invitation.
Considerations
Once your application is received, a visa officer will review it for completeness. The officer can decide to approve or reject your application or request an interview. Officers may also request a medical exam. If you are given an interview, you will be notified of the time and date and you will be expected to provide details about your trip and prove that you will return to Mexico when your visa expires. Provide proof of ties to Mexico such as enrollment in school, property, details about your job, business ownership and round trip tickets; bring any document you think will show ties to Mexico to your interview. Interviews and medical exams can add up to three months to the visa process, so apply as early as possible.