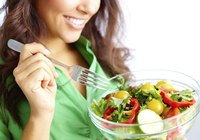 Nicotinamide, also known as niacinamide, is a B vitamin and a form of B-3. The other two forms of B-3 are niacin and inositol hexanicotinate. Nicotinamide is found in a variety of foods, and doctors use it to treat diabetes and certain skin conditions, according to MedlinePlus. It may even be useful if you have osteoarthritis, and it also plays a crucial role in helping your body produce energy. Nicotine in tobacco has a similar structure to nicotinamide and can prevent your body from properly absorbing nicotinamide from your diet.
Where It's Found
All three forms are collectively referred to as B-3, so you may be more familiar with this term. You get B-3 from various foods in your diet such as meats, fish, milk, eggs, beans, cereal grains, green vegetables, peanuts and sunflower seeds. Nicotinamide is also found in B-complex vitamins, along with other B vitamins. There is no recommendation for nicotinamide, specifically. If you get enough niacin, you'll have enough nicotinamide since the body converts niacin to nicotinamide. The recommended intake for niacin is 16 milligrams for men and 14 milligrams for women.
Benefits Energy Production
Chemically, nicotinamide is the biologically active form of niacin that the body can use to carry out important functions. Particularly, niacinamide plays a crucial role in helping the body produce energy. Along with the other seven forms of B vitamins, nicotinamide works together to help your body use proteins and fats and to convert carbohydrates to fuel. B vitamins aid your body in converting these food substances into adenosine triphosphate, or ATP, which is a high energy molecule your body uses for fuel.
May Delay Insulin Dependence
Nicotinamide may delay the need to take insulin in people in the early stages of Type 1 diabetes. It appears to protect insulin-producing cells in the pancreas, according to a study published in the March 2009 issue of the "Iran Journal of Allergy, Asthma and Immunology." Researchers experimented with two groups of mice with early-onset Type 1 diabetes. One group of mice received nicotinamide, while the other group did not. The untreated group developed diabetes within two weeks, while the mice given nicotinamide did not.
May Benefit Osteoarthritis
Osteoarthritis is a painful joint condition characterized by the destruction of cartilage, which lubricates the joints. As a result, the bones rub against each other, causing pain and reduced joint flexibility. Taking nicotinamide may reduce inflammation and pain and improve joint flexibility, according to MedlinePlus. Taking it may even make it possible to reduce your dosage of pain medication. A recommended dose is lacking, so work with your doctor to determine how to take it.