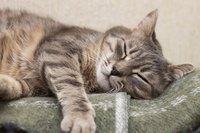 Phenobarbital is the drug of choice for veterinarians treating cats suffering from seizures. Phenobarbital has a good track record of being safe and effective, and it carries a reasonable cost. Phenobarbital may react with a variety of different drugs, though, and it carries potential side effects including lethargy, anemia and weight gain.
Side Effects
When your cat experiences a seizure, it's because of a sudden surge in her brain's neuron activity. Phenobarbital decreases the frequency of seizures by stabilizing and decreasing neuron activity. The decreased neuron activity causes the lethargy. Other common side effects include anxiety or sedation; increased appetite, water intake and urination. If anemia presents, the vet will likely choose an alternative medication. Sedation and lethargy typically wear off after the cat becomes used to phenobarbital -- however, if the effects linger, a blood sample after a couple of weeks can help determine if the cat is receiving a proper dosage.
Other Effects
Regular blood testing is necessary because consistent use of phenobarbital can lead to liver problems. Routine blood tests will keep your vet apprised about the state of your cat's organ health. As well, phenobarbital can react with a wide range of drugs, including antihistamines, corticosteroids, and certain antibiotics, anti-fungals and other medications. If your cat takes phenobarbital, it's crucial that you administer it exactly as directed, as one missed dose can trigger a seizure.