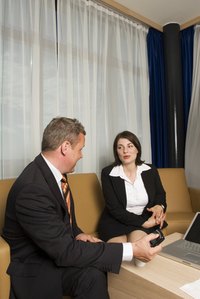 Outsourcing various functions of the Human Resources department may be a viable management strategy. Hiring outside entities to perform the work is sometimes done for cost reasons or if internal staffing is minimal. Third party consultants exist with the expertise to perform nearly every aspect of the duties typically delegated to a traditional in-house human resources department.
Employee Assistance Program
Counseling employees and their families on a personal level is the most likely service to be outsourced. These third party Employee Assistance Programs, or EAPs, provide employees access to qualified counselors. All conversations are privileged and confidential. Workers seek advice on legal, financial and personal problems and family issues, to help them deal with, and work through, life's challenges.
Drug Testing
A typical outsourced function is drug testing. In fact, some states such as California actually restrict such testing from being performed in the workplace. Pre-employment drug screenings are extremely common. Employers send job applicants to collection sites run by an authorized lab where samples are collected and analyzed.
Background Checks
Third parties may perform background checks for an in-house HR department. Their investigations may include identity verification, criminal searches, employment and confirmation of education claims. For specific positions, some employers may also request a credit report.
Payroll
The payroll function may be assigned to a company's accounting department, however, in some firms the duty falls to HR. Payroll management companies offer clients flexible methods of data submission. In addition to cutting checks, add-on services may include dealing with garnishments, tracking employee time off, submitting tax data and preparing customized reports.
Benefits Administration
Human Resource departments may hire third parties to administer company benefit plans such as medical, life insurance, dental, vision and disability programs. 401(k) and other retirement plan administration duties are also viable outsourcing options.
Recruitment
The recruitment process is a fairly straightforward function to outsource. A variety of firms exist offering services that range from providing a temporary workforce to consultants who are capable of sourcing candidates for both domestic and international positions. According to Libby Pannwitt of The Work Life Design Group, a career management firm in San Carlos, California, "Some executive recruitment firms can also be retained to scout for experienced high level executives to fill Board of Director openings."
Compensation Consulting
Often times in-house human resources personnel do not have the expertise to design sales and executive compensation programs. Outside consultants with an expertise in total compensation can create customized plans that serve to motivate and drive optimum performance.
Employee Relocation
Move management firms offer a number of ways to assist HR personnel with transferring an employee from one location to another. Specific services can be contracted for, such as shipping an employee's vehicle, or vendors can provide turnkey services that range from packing the family belongings to providing domestic and international arrangements for the family dog.