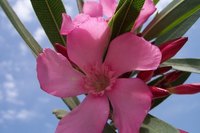 Nicaragua is a country of vibrant colors, cultures and people. The largest country in Central America, the country is bordered on one side by the Caribbean Sea and the other by the Pacific Ocean. It also borders Costa Rica and Honduras. The country features a number of exotic flowers to delight natives and tourists alike. Beware, though, as some of them are poisonous.
Sacuanjoche
The Sacuanjoche flower is Nicaragua's national flower. It grows on the Frangipani tree, and the flowers generally begin to sprout in May. When the flowers begin to appear the tree is still bear, and so the flowers stand out even more. The flower is generally white, red or pink. It is featured on Nicaragua's one-, five-, 10- and 25-cent banknotes.
Death Camas
As the name of this plant implies, the Death Camas, or Death Lily flower, is extremely poisonous. The flower grows from a bulb and is often mistaken for an onion. However, the flower does not produce the harsh, onion-like smell. The leaves are grass-like, and the flowers sprout above the leaves. The white flowers each have six petals that feature a heart-shaped green splotch.
Lantana
Lantana flowers are distinctive because they are flat-topped. The flowers come in a range of colors, including white, yellow, orange, pink and red. The flower produces a strong, sweet smell. These flowers can grow to be nearly 18 inches tall and the plant can produce black or dark blue fruits. However, this plant is highly poisonous. If ingested, it can induce severe illness or death. The flower itself can produce severe skin irritation in some people.
Oleander
Oleander flowers grow on small trees or bushy shrubs. The plants can grow to be more than 30 feet wide. The shrubs feature straight, dark green leaves. The white, yellow, red or pink oleander flowers stand out in contrast to the leaves and often grow along with brown fruits that produce seeds. All parts of the oleander trees and bushes are poisonous. The wood of the tree or shrub can produce poisonous fumes if burned.
Trumpet Vine
The trumpet vine or trumpet creeper can climb up structures such as trees or houses, reaching as high as 50 feet. The vine produces trumpet-shaped flowers that give the plant its name. The flowers are generally darker colors, including deep orange and scarlet. Contact with the flowers or the vine itself can cause skin irritation.