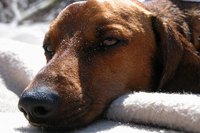 Botulism is rare in dogs, but it can occur. Acquisition occurs through ingestion of an infected carcass, raw meat, rotting vegetables, decaying grass, hay or grain. After ingestion, the toxin travels from the stomach to the intestines and into the blood supply, where it attacks nerves used by the dog's muscles. Botulism is hard to diagnose because there are many other health problems that can mimic botulism. While the are seven kinds of botulism, dogs are usually most susceptible to the type known as C1.
Onset of Symptoms
Symptoms usually occur within 12 to 36 hours. The typical first sign of botulism in dogs is weakness. The dog may be alert and wagging its tail, but unable to stand or move. The severity of the symptoms depends on the amount of botulism in your dog's system. Paralysis of all four legs and the neck occurs within 12 to 24 hours and, by this time, these will be severe indicators of botulism. You should rush your dog to the vet immediately if you notice the paralysis spreading or see that your dog is alert but can no longer move.
Symptoms
According to the website Professor's House, botulism symptoms may include weakness, paralysis spreading from the hind limbs to the front limbs over the course of hours, a slowed heart rate, facial nerve paralysis, unusual vision problems, difficulty swallowing as well as difficulty eating, increased respiratory effort, and decreased breathing. The slowed breathing and increased effort to breathe can ultimately lead to respiratory failure and death in severe cases. Also during severe cases, your dog may die of heart paralysis.
Outcome and Fatality
Dogs often die due to botulism because respiratory care is required along with several weeks for the body to resume its normal functioning. Veterinarians rarely have all the equipment they need at their disposal to take complete care of your dog since care is on a long-term basis including breathing apparatuses and a safe place to stay during the long weeks of recuperation. Antitoxin is only helpful if given in the first few hours of the botulism infection and is not useful once the signs of botulism appear.