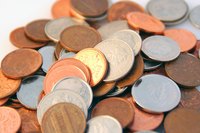 Equity financing helps organizations raise funds needed for their operations, expansion and long-term investments without paying interest on a quarterly, semi-annual or annual basis. Equity holders have control over organizations in which they invest, and they may vote to change management or approve company strategy. They may also vote on dividend payments.
Financial Markets
Companies that are listed on stock exchanges may raise funds by issuing stocks to new investors or shareholders. The issue price may be different from the share price existing at the time of issuance to attract investors--the difference between the issue price and the existing share price is called a discount. For instance, Company X might issue new shares of stock at $10 apiece while the current share price is $15; the $5 difference between the prices is the discount.
Private Investors
Organizations not listed on stock exchanges may raise funds through private channels. They may issue shares of ownership directly to interested investors such as venture capital firms, banks, insurance companies and asset management firms. Venture capital firms invest primarily in start-ups--new companies with promising products. Other financial institutions such as banks may invest in existing companies. The share price paid by private investors may be determined by valuing the entity's assets or comparing it to similar competitors with listed share prices. For example, a bank willing to determine the stock value of Company A might evaluate the listed share price of Company B, a competitor.
Business Partners
Firms may raise funds from business partners--that is, customers or suppliers. Such investors might be a preferred source of equity financing because they are usually familiar with the entity's operations or management. They receive management and voting rights, and they may also be paid dividends periodically. Customers may invest in an entity by making advance payments on future product deliveries; suppliers provide financing by extending payment due dates on product shipments.
Employees
Workers may provide equity financing to an organization by buying share prices through an Employee Stock Ownership Plan (ESOP). The plan allows staff to buy shares at discounted prices, which allows employees to own a portion of the firm. ESOP might also be a preferred option to raise funds because it has tax advantages, and employees have an interest in growing the company and making it profitable. For example, Company A's stock is currently valued at $10, but employees might buy it at $7--a $3 discount--through an ESOP to fund retirement accounts.